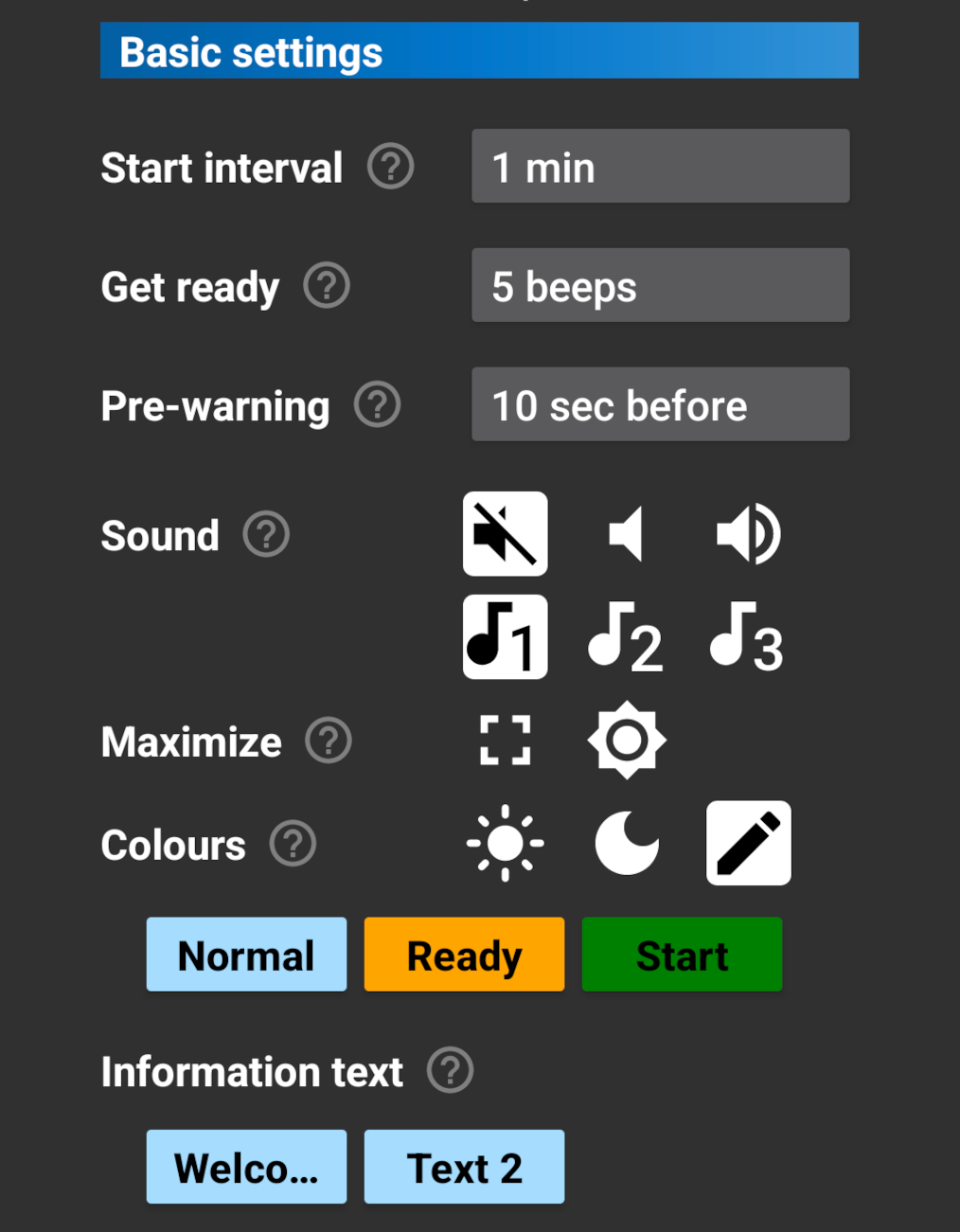 Time parameters
Set the time parameters:
Start interval — Select start interval (5 sec to 10 min).
Get ready — Select number of Get ready beeps (countdown beeps) before the start signal, or none.
Pre-warning — Select if and when a Pre-warning signal is given.
Sound
Set sound volume of Start Clock:
Off.
On.
Maximum.
Select type of sound:
Loud and clear beeps.
Subdued beeps.
Ding-dong beeps.
Maximize
Automatically maximize in main timing window:
Fullscreen. In fullscreen mode, there is no menu available in the main timing window. To enter Settings, long press (tap and hold) in the main timing window. For devices that do not have physical back and home buttons, Swipe upwards from the bottom edge of the screen to show these buttons.
Max brightness.
Colours for text and background
Choose colour theme:
Light theme.
Dark theme.
Custom theme.
Tap custom to pick text and background colours for:
Normal — Select standard colours.
Ready — Select colours during the Get ready beeps.
Start — Select colours during the Start beep (for example, black text on green background).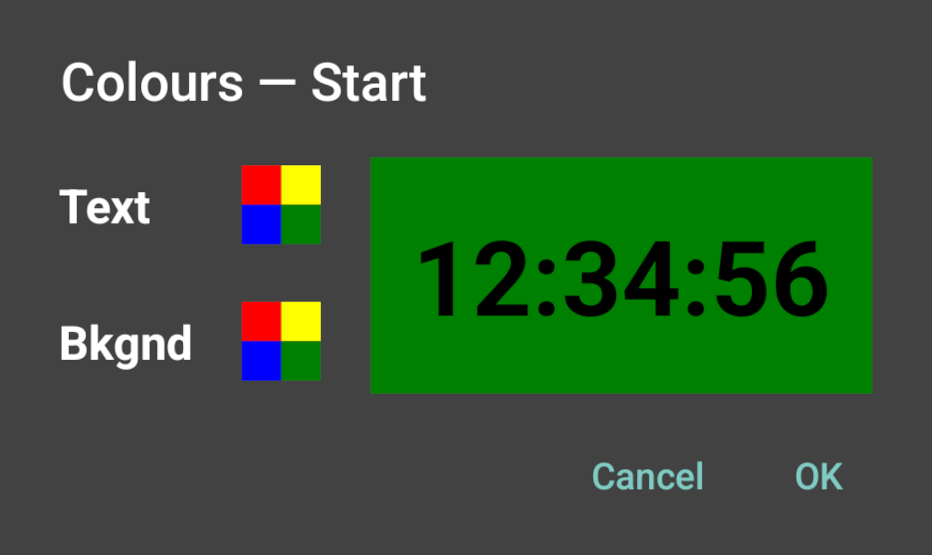 The Normal, Ready, and, Start colours can be chosen to resemble a traffic light (for example, red-orange-green backgrounds).
Information texts
Edit a short message, which is displayed in the main timing window.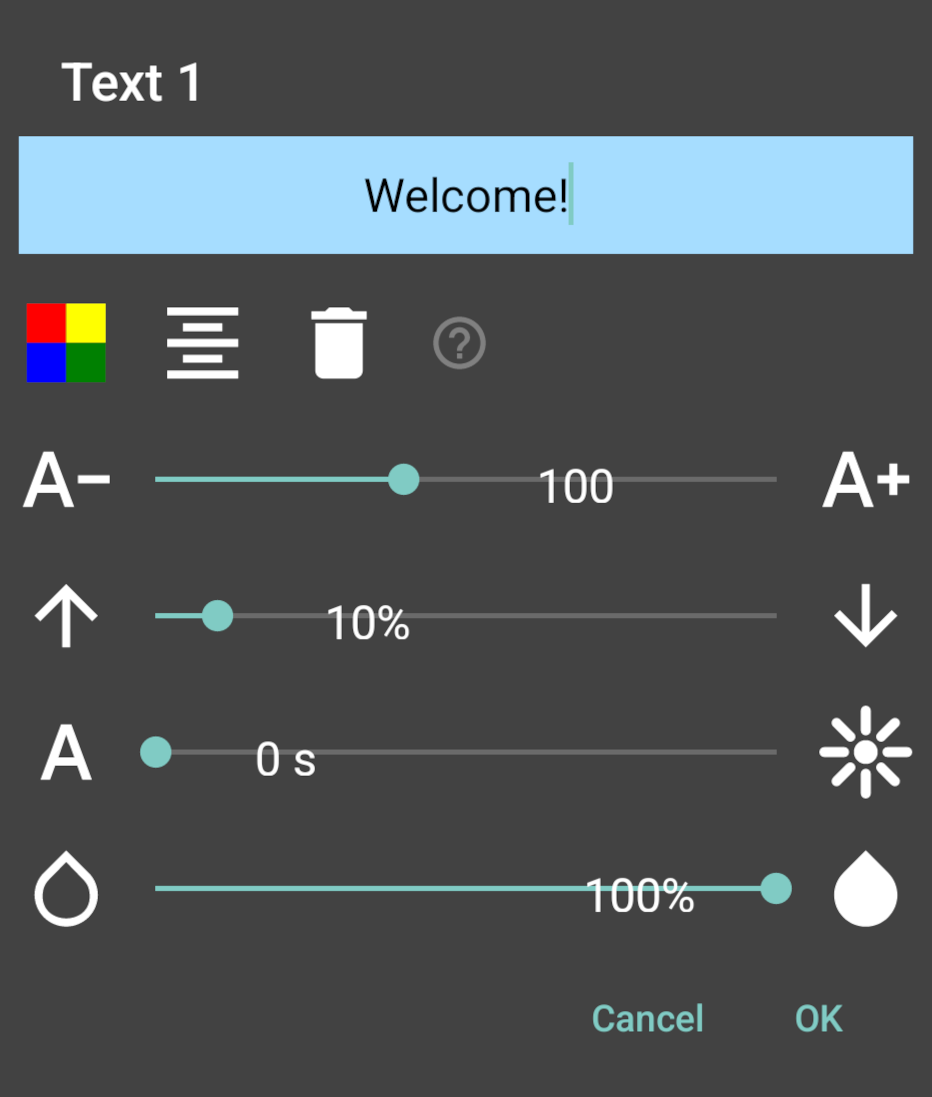 Select text colour.
Align text (left, center, right).
Delete text.
Adjust the text size.
Position the text vertically.
Control if and how fast the text is flashing.
Adjust text transparency (opacity).
The background colour is defined by Normal, Ready, and, Start background colours, respectively.
---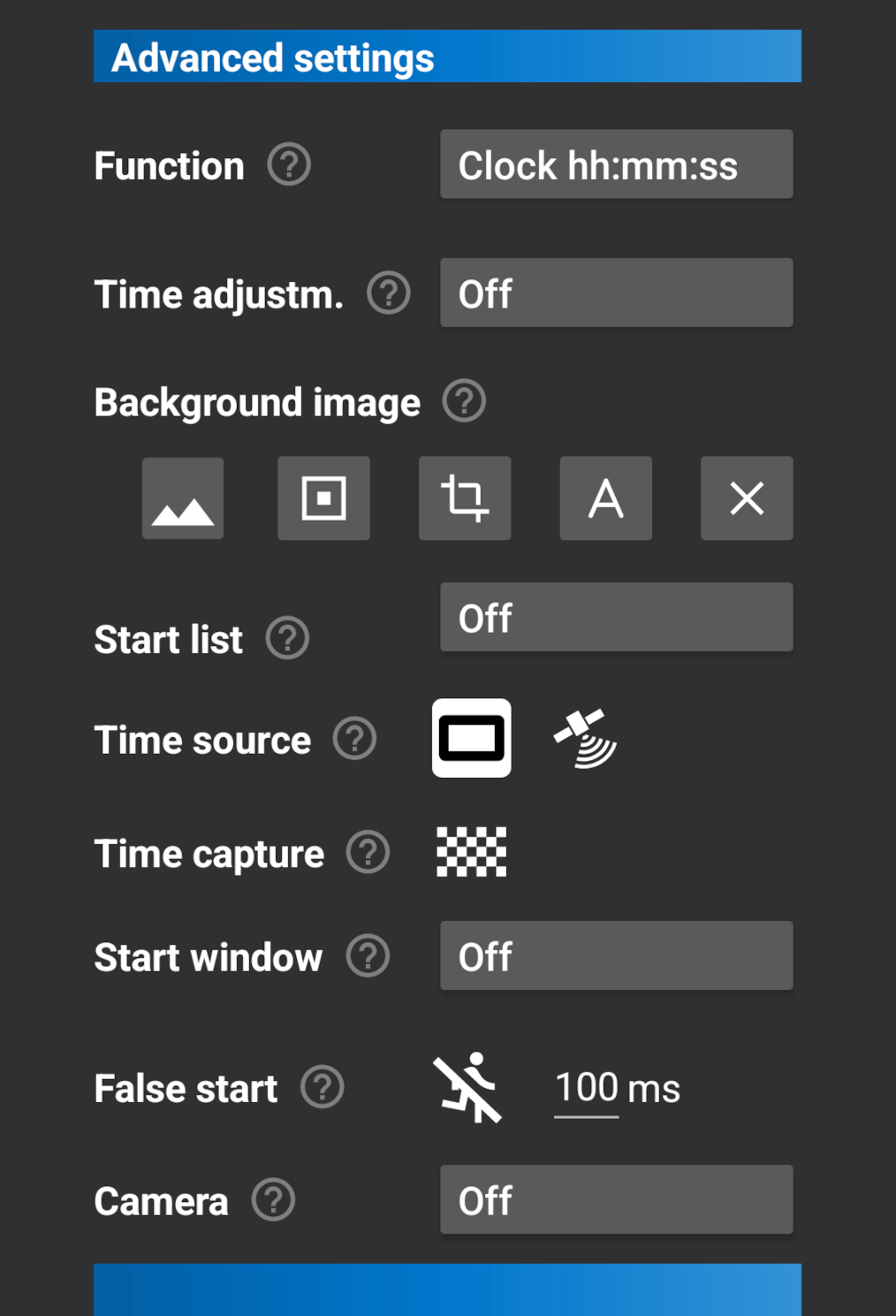 Function
Clock hh:mm:SS — Start Clock with big seconds.
Clock hh:mm:ss — Start Clock.
Clock hh:mm — Start Clock without seconds.
Countdown ss — Countdown to start signal.
Time zero hh:mm:ss — Timing relative to a zero time point (countup).
Time zero mmm:ss — Time zero, no hours.
Time zero mmm — Time zero, minutes only.
Time zero
Enter zero time point hh:mm:ss.
The main timing window displays a negative time counting towards zero when current time is 12–0 hours before time zero.
When current time is 0–12 hours after time zero, a positive time counting upwards is displayed.
If using Time zero together with Start list, read more under Start list below.
Time adjustment
The entered value ±hh:mm:ss.ss is added to current time.
Adjust time — If the displayed time is 1.5 sec ahead enter –1.5 sec. If the displayed time lags by 2 sec, enter +2 sec.
Display Call-up time — If participants are called-up 3 min ahead of their start time: enter +3 min.
Postpone start — If competition is delayed 30 min: enter –30 min to keep the original start times.
Background image
Display a picture or a logo.
Select and preview image.
Where to place the image. Tap to toggle between the 9 different positions. Works best for small images that don't fill the screen.
Display a cropped image, the entire image, or a fitted (stretched) image. Tap to toggle. Works best for images that are larger than the screen.
Rotate image. Tap to toggle between Auto, 0°, 90°, 180° and 270°.
Stop displaying the image.
Reduce image size (1–100%). Use decrease/increase buttons or move slider.
Start list
Display an imported start list, or try this function with the built-in demo start list.
Select one or two columns in landscape orientation. Always one column in portrait orientation.
The names of the participants are read out by speech synthesis (speech services by Google).
Show details about the imported start list.
Show the start list.
Adjust text size of start list.
Adjust text size of clock.
The number of participants that can be displayed simultaneously is maximum 30 (15 if one column landscape), but is usually limited by the screen size.
Interval start — Start Clock shows the participants who will start at the next start signal. All contestants start with a fixed time interval.
Chasing start (pursuit) — Start Clock displays each competitor as his/her start time is approaching, then gives a start signal. Settings for chasing start:
Start interval controls how far in advance Start Clock displays each participant.
Get ready determines when colour change takes place (no beep).
Pre-warning is not used (no beep).
Workflow overview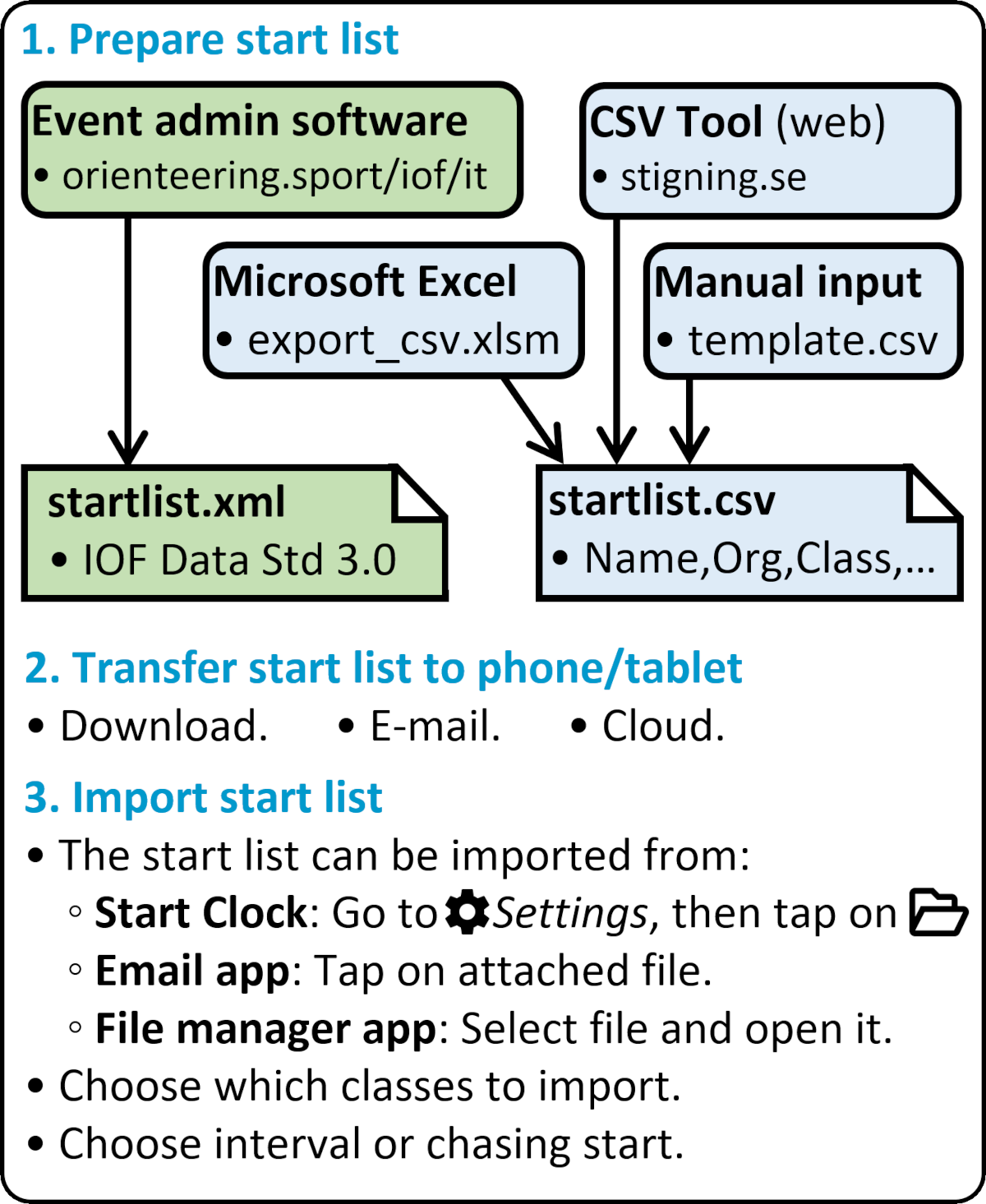 Prepare start list
Create the start list, either in XML format, or, in CSV format (Comma-Separated Values).
XML: Use sports admin software that supports IOF Data Std 3.0 (International Orienteering Federation).
CSV: Use one of the following options:

CSV Tool, which is a web based utility.
Download and use export_csv.xlsm, which is a Microsoft Excel based utility.
Edit the CSV template manually using an ordinary text editor (for example, Windows Notepad, macOS TextEdit, or, Notepad++).
Transfer start list to phone/tablet
Transfer the file to be imported (the start list) to the device (phone/tablet). This can be done in several ways, for example, by emailing or downloading the file.
Import start list
Locate the file.
Tap on the file and choose to open it with Start Clock – Import start list.
Select which classes to import. Participants in these classes will be imported, only. Participants who lack start time are not imported.
How to find the import file
If the file is in your email app, tap on the file. The import now starts.
If the file has been down­loaded, it is usually stored in Android's Downloads folder. Use a file manager (for example, Files by Google) to locate it. Then, tap on the file to start the import.
If the file is stored in a cloud service (for example, Google Drive, Dropbox, Onedrive), export the file to Android's file system. Then, use a file manager.
Troubleshooting import
Make sure the file to be imported (the start list) is stored on the device (the phone/tablet), that is, it is stored in Android's file system.
A file cannot be opened from within Start Clock. When you tap on an XML/CSV file, Android determines that it is handled by Start Clock, and passes the file to Start Clock. If there are several apps that can handle this filetype, Android will ask which app to chose.
If another app (not Start Clock) starts when you tap on the XML/CSV file, then that app has been set as the standard app for this filetype. It could for example be the Excel app, the Office Mobile app, or any similar app. Go to Android's settings, select Apps, and tap into the app that starts instead of Start Clock. Now clear this standard setting.
If nothing happens when you tap on the XML/CSV file, re-start the device (the phone/tablet).
Supported file formats
XML, in accordance with IOF Data Standard 3.0. Can be produced by, among others, OLA, OE2010 and tTiMe. Does not support multiple contests in one XML file (multiday events). Filename must end with extension .xml (lower case).
CSV, with the following comma-separated fields: Name*, Organisation*, Class*, BibNumber, StartTime*, ControlCardNumber, StartName. Fields containing commas must be enclosed with quotation marks, for example, "Last name, first name". Blank lines are ignored, comment lines start with // (double slash). CSV file should be in UTF-8 format (good for åäöæøüáóñéèù…). Filename must end with extension .csv (lower case). A CSV template can be found here. A Microsoft Excel spreadsheet that creates CSV files can be found here.
How to use Time zero together with Start list
Set Time zero in accordance with the start list.
Use Time adjustment to adapt to changed starting times.
Example: In the imported start list, contestant A starts at 10:01:00, B at 10:02:00. Set Time zero to 10:00:00. Start is postponed by 30 min, set Time adjustment to –30 min. Contestant A will now start at 10:31:00 when Start Clock displays 1:00, B at 2:00.
Time source
Select time source:
This device. Use the internal clock of the device.
Use GNSS time (Global Navigation Satellite System; GPS, Glonass, Beidou, Galileo, and/or, INRSS).
GNSS time
Start Clock adjusts the time given by the device's internal clock with a correction, which is updated once per second with GNSS time. If no GNSS update is received, the built-in clock is used, adjusted with the latest correction.
Place the device in an open area with a clear view for a large part of the sky. Trees and buildings as well as weather conditions may prevent accurate timing. Reliable GNSS time is achieved only after several minutes of use. Do not use indoors!
Tap on the satellite icon in the main timing window (upper right corner) to display GNSS status:
Locating satellites (blinking).
Running, fair quality.
Running, good quality.
GNSS unavailable. Android™ Location switched off.
Android permission Location not granted.
GNSS failure.
Start window
The start window is used when it is allowed to start before and/or after the start signal.
The ±X sec option shows green (the Start colour) during, for example, ± 5 sec relative to the start signal. Actual length is controlled by the setting Get ready.
Rally (1 min) shows orange 5 sec before the start signal, then green during 20 sec until red is displayed. Corresponds to custom 5, 0, -19, +1 sec; Start interval 1 min; and, Countdown.
Select Custom to configure other types of start windows.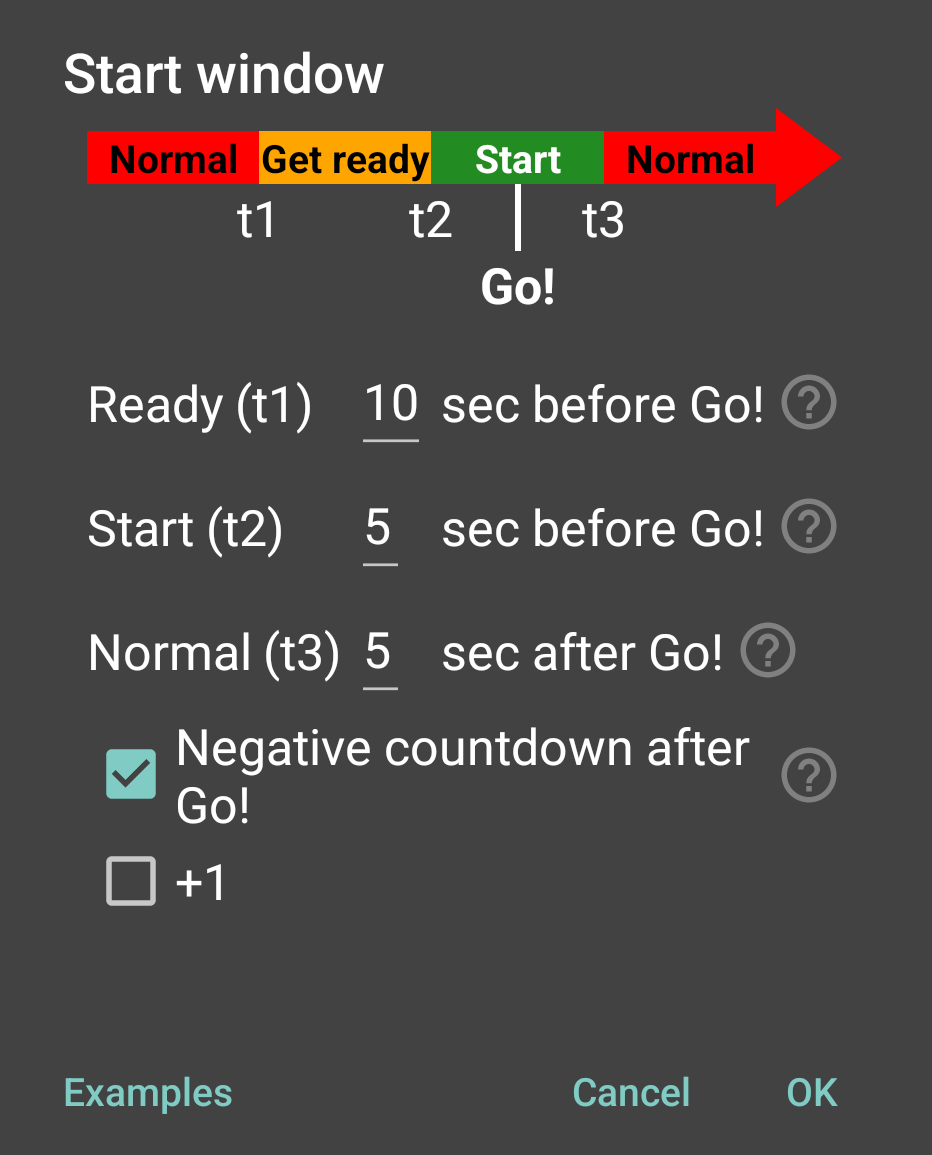 The custom parameters control when the colours of Ready, Start, and, Normal are used.
Ready (t1) — Between t1 and t2, use the Ready colours (text and background).
Start (t2) — Between t2 and t3, use the Start colours.
Normal (t3) — After t3, use the Normal colours.
Negative countdown after Go! — The countdown displays 0, -1, -2, -3 … between Go! and t3. Applies only if the function Countdown has been selected.
The parameters t1, t2, t3 are relative to Go! (the start signal).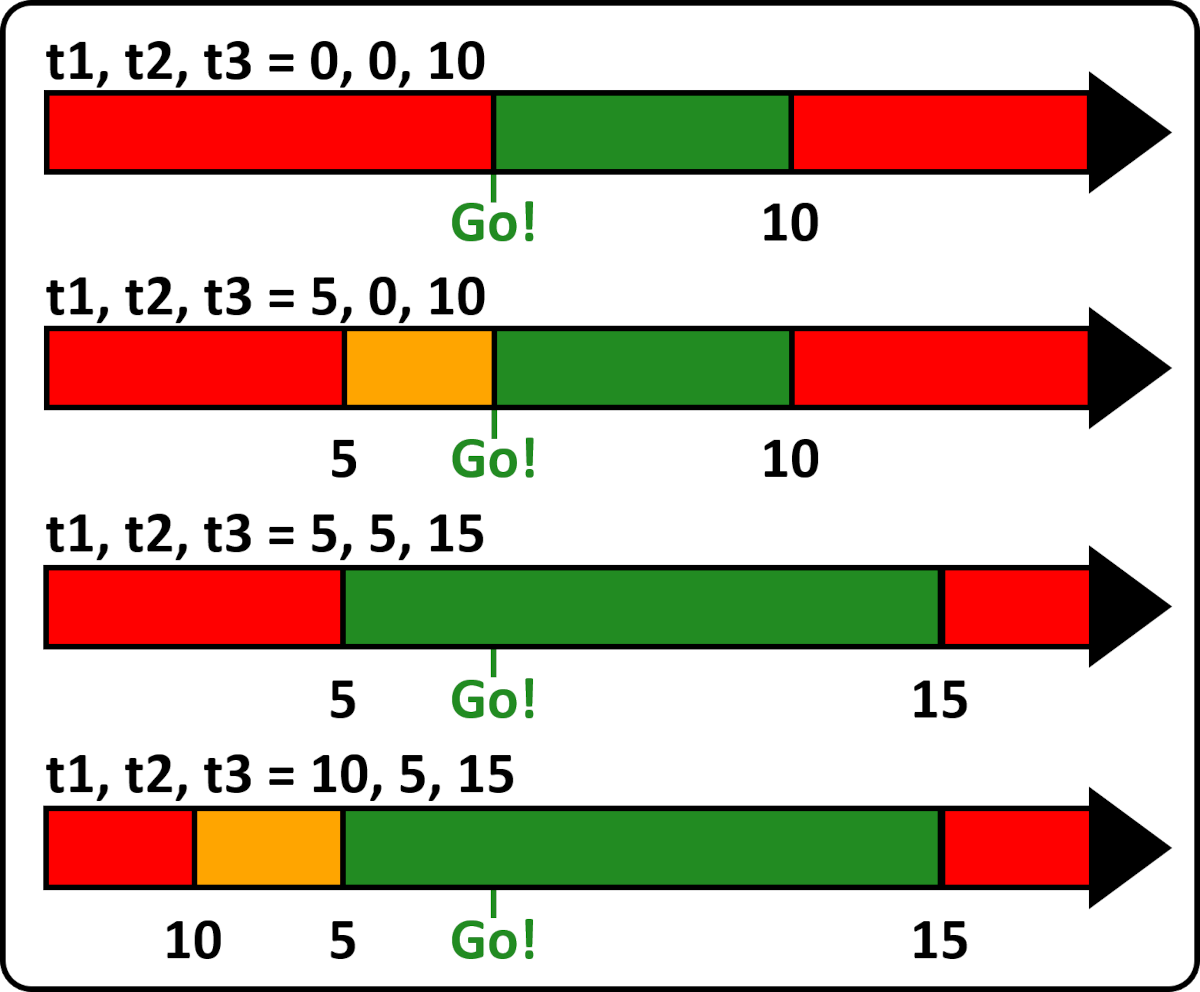 Custom configuration examples.
False start
Detect a false start by connecting an external start gate to the device (experimental).
False start.
If the gate signal is received before the given reaction time has elapsed, a false start is signalled:
an alarm sound is played
a stop picture is displayed
a picture is taken (if Camera is activated).
The false start detection is activated at the first Get ready beep and is deactivated during the start second when the reaction time has elapsed. Outside that time window, any signal from the start gate is ignored.
The start gate is connected to the device through the headset interface. The signal from the start gate shall correspond to the button Play/Pause/Hook (the centre button) of the headset.
Resources:
https://source.android.com/devices/accessories/headset/plug-headset-spec
https://electronics.stackexchange.com/questions/242883/how-do-media-buttons-on-a-plain-wired-headset-work/242885
Try the function by connecting a headset and use the centre button to simulate the signal from the start gate.
Camera
Automatically take a picture at the start signal using the back facing or the front facing camera. Requires Android version 5 or later. If False start is enabled, pictures will only be taken at false starts.
Rear — Use the back facing camera with default camera settings.
Front — Use the front facing camera with default camera settings.
Custom — Modify the camera settings.
Icons in the main timing window:
A picture has been taken.
Show/hide preview.
Error when taking picture. Click on the icon to display an error message.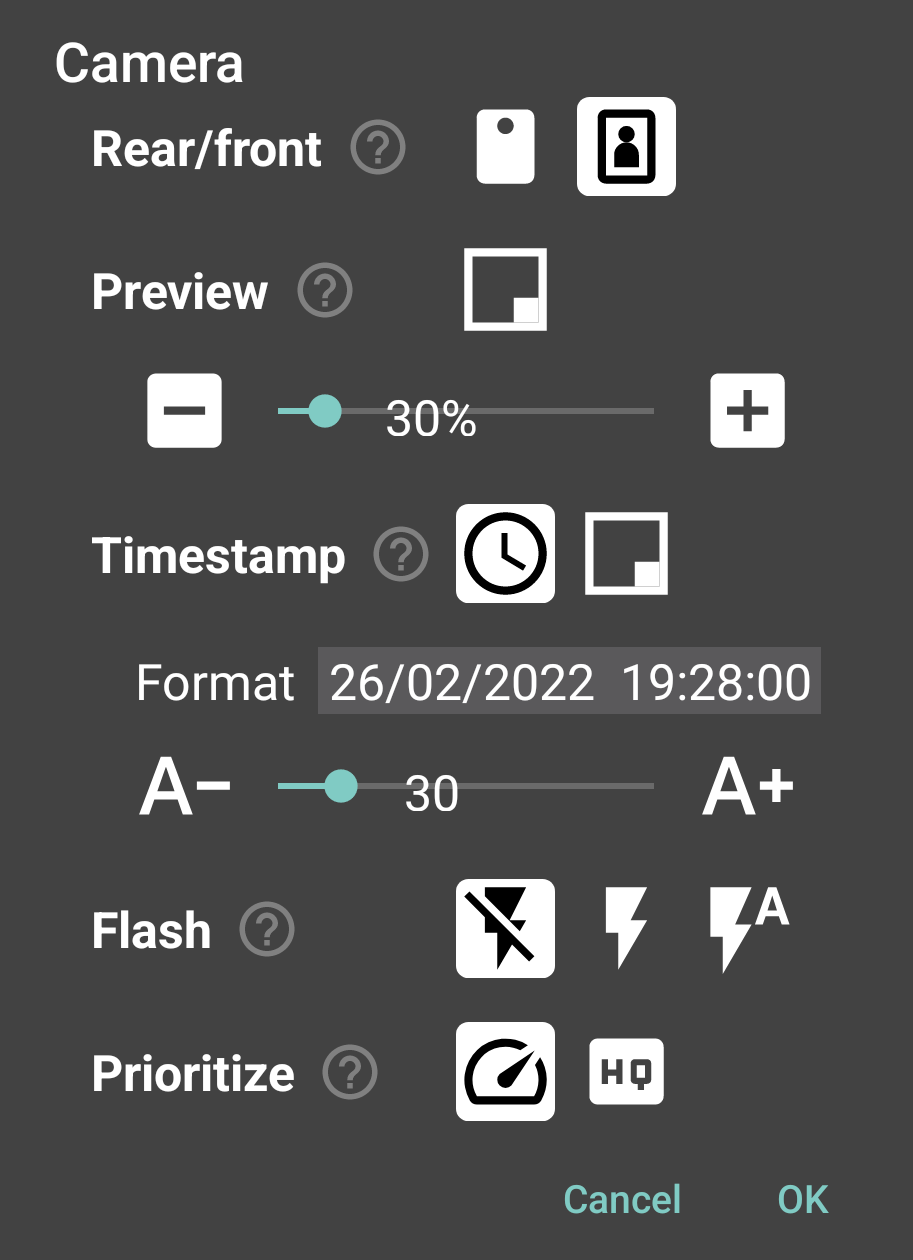 Customize camera settings:
Select rear or front camera.
Position of the image preview. Tap to toggle between the different positions.
Adjust size of the image preview.
Insert date and/or time on each picture. This post-processing of the picture is resource-intensive for old devices.
Position of the timestamp. Tap to toggle between the different positions.
Format controls date and/or time format. The date formats shown below are the English UK versions. They will be adapted to the language settings of your phone/tablet.
Time only, for example, 19:28:00.
Short date and time, for example, 26/02/2022 19:28:00.
Long date and time, for example, 26 Feb 2022 19:28:00.
Adjust text size of the timestamp.
Set flash option (off, on, auto).
Request the camera to prioritize speed (low latency) or quality. Some cameras ignore this setting.
Translate
Please improve the translation of this app. Correct individual linguistic errors, suggest better wordings of one or more texts, or translate the app into a new language.
All translations are available on the web.
Attribution
Android is a trademark of Google LLC.